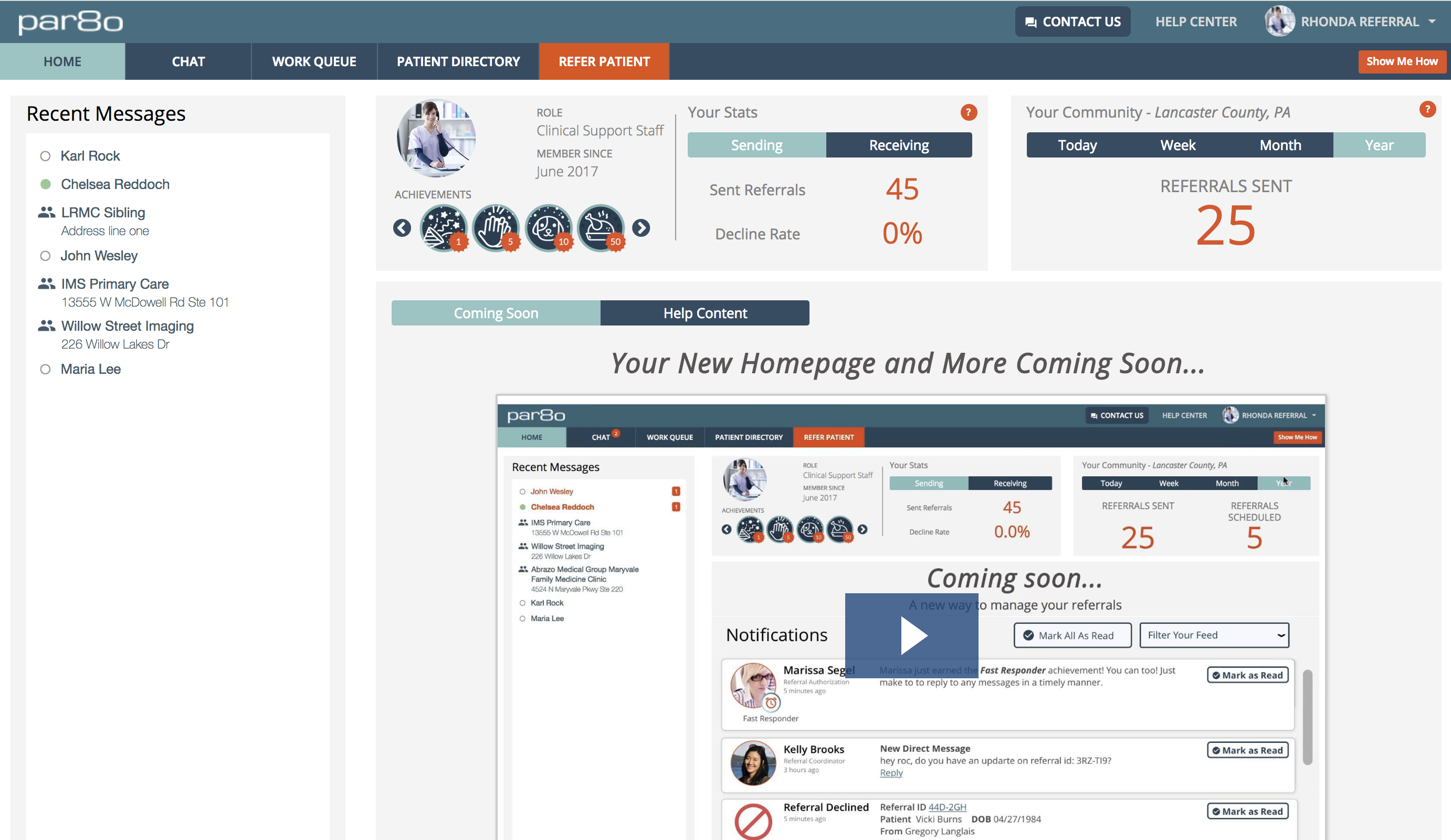 By way of a quick introduction, I'm Roc Hargrove, the SVP of Product and five-year veteran here at par8o. I mention five years because the platform upgrade I want to tell you about in this blog post really is the culmination of five years of designing, building, and deploying Referral Management Software (RMS).
The upgrade, now live across the par8o referral platform, actually encompasses three key areas - par8o Chat, a HIPAA-compliant live chat between clinical staff; a new homepage that features a live feed that will help our community coordinate referrals faster; and what we're calling "enhanced community profiles". This post will focus on our enhanced community profiles, but the three aspects each help to achieve the golden mecca of any healthcare software system, be it EMR/EHR, or referral management system - a provider directory that is up-to-date and accurate, and is continually up-to-date and accurate.
That's right: I'm talking about network data integrity through staff user engagement.
But first a little background. Par8o has been helping organizations deploy and manage high-performance referral networks for almost six years now. We've been fortunate to work with some of the largest health systems and self-insured employers in the country. Mount Sinai Health System in NYC, MGM Resorts in Las Vegas, and Dignity Health across the country to name just a few.
Having deployed successful referral networks in a variety of settings, we've learned that workflow integration and particularly EMR/EHR integration will vary tremendously from location to location (see our blog post on EMR integration and referral management to learn more about this). The similarity among these locations has been the struggle to maintain accurate data about resources in the referral network, namely:
Provider names or resource names

Facility or clinic addresses

Which insurances are accepted by which providers at each location

What the name and phone number is for the person who schedule for each provider at each location.
Of course, this is the basic information required to be able to effectively coordinate care for patients across a referral network! And yet everyone struggles to establish and maintain this information. We've also watched clients spend millions of dollars (literally) with vendors who claim they can 'clean-up' this data - and we've yet to see it work. Probably because the data is constantly changing.
And then our users starting speaking! Or maybe we just starting listening more carefully.
Back at the beginning of 2017, we completed a nationwide survey and series of site visits to better understand the tens of thousands of people in America's health system who use par8o every day: Who they are, what their workflows are like, what EMRs they use, what other software systems they use, and what motivates them on a personal and professional basis.
As the results of this research started coming in, we realized the people who were the heaviest users of the product, typically referral coordinators and office staff, were quite often 'digital natives' who were equally as familiar with Facebook and Instagram as Epic or Athenahealth.
And that's when inspiration hit: The survey results and site visits were telling us that office staff had this shared commitment to help serve patients and took great pride in that, but also had a shared frustration when it came to coordinate care with, sharing data with, and communicating with affiliated offices, and sometimes even between employed offices if it was a large system.
If we made it easier to engage on our referral management system, or in other words, gave our users a way to channel that sense of ownership and pride, then the people on the frontlines, who were talking to people at specialist offices and generally the first to unearth the incorrect office data, would and could take ownership in updating and curating the provider data in our system, if we made it easy enough to do so. Think of it as a bottom-up vs. top-down approach to ensuring accurate network data.
The other piece involved in making this work was an intensive company focus group involved in deriving what motivates our users on a personal and professional level and most appealed to them based on the demographic data and marketing research results that were also a part of the survey. The answers were worked into what is now evident in our enhanced profiles.
Instead of just a first and last name, our users now have a profile picture, as well as the ability to select several "tags" - some professional, some personal, and they may enter a free-text bio. They can create an identity within our product to tell the par8o community. Our product voice is friendlier, and there are emojis and "work queue zero" ego gratification giant emojis with fun comments written by our marketing department.
We also changed out data from static to "crowd sourced" - meaning end-users could report inaccurate data, and enter new data, then request that our support team reviews and approves changes.
When we tested this, we quickly saw that data fidelity started to improve. A key enabler for a well functioning referral management system and a real asset to any high performance referral network.
Better still: Enhanced community profiles create a sense of community across offices within a network, helping staff in different offices to better establish and maintain the relationships which are so critical to effective care coordination. This capability, especially combined with the two other parts of the platform upgrade, par8o Chat and par8o's new user homepage, have an immediate impact on how people engage with the par8o platform.
We see this reflected with improved responsiveness among staff using enhanced profiles and improved data integrity. Enhanced profiles will also enable some improved ways to sign into par8o, including two-factor authentication via your cell phone and a magic sign-in link via your email inbox in case you forget your password. More to come.
About the Author: Roc Hargrove is par8o's SVP of Product. He oversees a team of product managers and his pup Bonnie is often seen following either him or a tennis ball around the office.